Ubuntu-related events have been chugging along here in California.
On Wednesday evening here in San Francisco I had the pleasure of hosting an Ubuntu Hour and Bay Area Debian Dinner. Both events attracted new attendees, which was great to see during December, a month that's historically pretty quiet for us.
On Thursday night I joined Professor Sameer Verma over at San Francisco State University where I did a presentation on Open Source for his "Managing Open Source" business school class. Given the audience, I gave the someone tongue in cheek title of "Open Source for love, money and fame" to the talk. I fear it was still a bit too technical for some of the students, but there were a number of great questions at the tail end of my talk.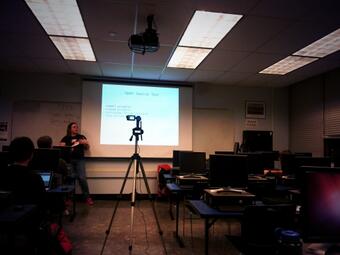 Thanks to Sameer
for the photo
My somewhat sparse slides from the talk are here: SFSU-2013-open-source-love-money-fame.pdf
On Tuesday I'll be meeting some of my HP colleagues for a couple of days at the office in Sunnyvale, so I thought this would be a great opportunity to host a Mountain View Ubuntu Hour, so I am! 7PM at Red Rock Coffee in Mountain View, details here:
http://loco.ubuntu.com/events/ubuntu-california/2661-ubuntu-hour-mountain-view/
Looking onward to next year, we have a leadership election coming down the pipeline in a few weeks. Richard Gaskin is putting together an Ubucon at SCaLE12x in February and we have Philip Ballew heading up efforts for our booth at the conference, details coming together here: CaliforniaTeam/Projects/Scale12x
Huge thanks to everyone on the team who has been pitching in lately, it's a pleasure working with all of you!